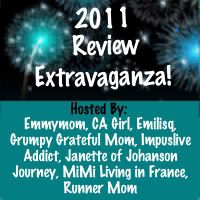 I am so excited to be linking up with Emmy and the other great bloggers for my review of 2011!
Today, we are reviewing January, February and March.
In January, my cute little 15 month old adopted the cheesiest smile in the world. He still flashes this smile for my camera almost every day. :)
January was also when we started going to kid's club at our local mall. We LOVE getting a free carousel ride each week.
In February, we celebrated my friend, Heather's birthday with a crazy sleepover party. We did glitter toes, heart attacked/tee-pee'd some houses, and went shopping the next day.
Also in February, we had a mini backyard campout at Joel and Gigi's and we roasted hot dogs and marshmellows (not at the same time).
February was also the month we were lucky enough to start babysitting Tess. Her and Hayley play so well together and we'e loved watching her and her sisters throughout the year.
Not a bunch happened in March but one fun thing we discovered was Pinkalicious! Petey LOVES Pinkalicious and I love her too. They are such cute little books for little girly girls. :)
Come back next week to see my review of April, May and June! :)
And that's how Suze sees it.