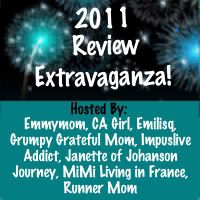 Welcome to the third segment of my review!
July was a fabulous month. The beginning of the month was busy and filled with me becoming a working mom again (only for 2 weeks) to fill in at my dad's office.
After that, my 2nd oldest sister got married! We are so happy to have her husband, Chris, in our family. It was a fun, crazy weekend but well worth it.
Next, we headed to Carlsbad, California to the beach house my parents purchased a few months prior. The kids loved going to the beach and I loved taking a million pictures, including this one. It was supposed to be a picture of my kids sitting in the sand but right when I took it, a wave crashed over them. Poor kiddos but a great picture. :)
Also while we were in Carlsbad, my parents took everyone to Disneyland! This was Boss and the kids' first time going and they all loved it! Spidey actually ran up and hugged Woody but as you can see by the picture, when he looked up from his hug, he realized how big Woody's head was and started crying. :)
August is really where my life went downhill. I went in to see my obgyn because I had missed 2 months of my period. I figured he would tell me I was pregnant but in his office, the tests were also negative. They did blood work and sent me home to worry for the next week.

In the middle of all that happening, Boss had to get his appendix removed. It was a stressful time since I was due back at the doctor's office the next day and they had already told me they were pretty sure I had PCOS. I needed Boss at that appointment and lucky for me, he sucked it up and came anyway (the day after being discharged from the hospital).
Like I recently wrote, it was a very dark time for me. I wondered if I'd ever be pregnant again (Actually, I still wonder that). I tried to stay positive with my blog posts but my world seemed to be falling apart around me. I like to have my control and it seemed controlw as nowhere to be found.
In September, my poor Spidey got
beat up at Mcdonal
ds and I held him for over an hour before he was ready to let me put him down.
September things seemed to be sinking in and I wanted to feel like I was learning and making life changes regarding my PCOS. I'm sad to say that wasn't the case. For a few months, I kind of just pretended I didn't have PCOS and would try not to think about it. I'm slowly learning and healing but the process is a lot slower than I thought it would be. I still have break downs a lot and my heart aches for another baby and for balanced hormones (Seriously!). But I'm here and alive and trying to stay positive as much as possible.
And thats how Suze reviews it!