Welcome to my 4th and final 2010 Review Extravaganza! Hosted by...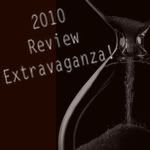 October
was an eventful month. My little man turned the big O-N-E and I loved
watching him annialate his birthday cake.
The day before my birthday, we had a
huge scare
with Petey. It made me realize just how sacred these bodies are that we've been given and made me thankful that Heavenly Father answered our prayers.
Also in October, I was brave (or stupid) and squeezed myself into a barrel so that my son could enjoy a ride on this tiny train...and he did.
*tear* Spidey (Spider Monkey?) learned how to climb onto my kitchen table before learning how to walk. He's been doing it ever since so recently, I bought a baby gate and if I can't be with him, he gets "locked" in the playroom with the door open.
And although Petey was to be a punk rock princess for Halloween, on Halloween night, she decided she would rather wear her Belle costume...oh well. :)
One of my favorite (or maybe least favorite) blog posts in October was when I realized
I have a cooking handicap.
It's gotten better since then---not much---but better.
To start
November
, my sister turned 30 and my mom made us all lovely necklaces for the day that read "My sister/Aunt/mom/daughter is 30 today!" Slightly embarrassing and yet, amazingly hilarious.
In November, something inside of me got brave and I
altered one of my shirts
so it would fit better. I also
altered one of Petey's shirts
and made some
cute arm warmers.
November was a big sewing month for me.
For Thanksgiving, we flew to Alaska with my family and braved the freezing cold weather to enjoy some ASU basketball. Yup, we're crazy.
To start off
December
, we cut off ALL of Petey's hair---or mostly all of it. I couldn't find a blog post to link to this so apparently, I never blogged about her new do. It is adorable!
I also learned how strong my little monkey girl is when she showed me she can swing back on forth on the trapeze on my parent's swing set. Yup, I dressed my 2 year old in a onesie in the middle of December.
December also gave us one more hospital scare when we had to take Spidey there. Apparently, we had a scorpions= and apparently,
they liked my son's arm
--- or didnt, since it stung him. But he liked the hospital attention and was out of there within 5 hours.
December is also home to
this blog post
abuot being baby hungry. I have since zeroed in on the reasons I want a baby right now and they don't have much to do with actually wanting a baby---because my hands are full right now. They have to do with knowing this will be the first baby we will have that I will stay home to raise and I am anxious to see how that feels. How much easier breastfeeding and getting up at night will be when I don't have work at 7am. So no, I don't want a baby---I just am excited for the new experiences I'll enjoy of being a SAHM to a newborn.
PS: Still not happening anytime soon.
Thank you, wonderful ladies, for letting me in on this Review Extravaganza. It has been fun reviewing my wonderful year.
And that's how Suze sees it.