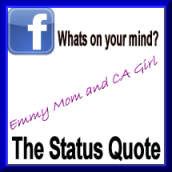 I do link up to Emmy Mom quite often but seriously, these links are oh so creative and oh so fun to join, I just couldn't help myself!
Today, I am linking up to The Status Quote. By definition, this means that I have found some pretty funny or interesting status updates on Facebook and I will post my favorites here. Some might be mine, some might be yours! :)
*My commentary is in red.*
"If you find "why is my kid's poop green?" in the google search tab...........your wife might be a redneck. It's from fruit snacks by the way."
This cracked me up! Have you ever searched something embarrassing and yet hilarious like this on the internet?
"Darn...someone at the ASU game just told me I have the 2 cutest little girls."
Yup, this one was mine and it really happened a couple of days ago. Sad day. Thats the FIRST time my Spidey has been called a girl.
"Brig and I came to the conclusion that I have a problem. I am ALWAYS thinking about what I want to eat next. Is this normal? Someone please tell me im not the only one."
Trust me, you're not the only one with this problem. :)
"Going from not working out at all to working out twice a day = not being able to walk right."
I'm feeling your pain, literally. After no exercising for the past month or two, I decided to ride my bike 2 mornings in a row this week. Ouch! It's going to pay off in the end but...ouch!
"It's official today...I have lost 50lbs and I don't want to find it so if you see it anywhere you can keep it;) "
If I find your 50 pounds, I dont want them either! But seriously this is how I feel about weight loss. It may be hard for me to lose weight but it's EXTREMELY hard for me to keep it off after losing it.
"is becoming a "grown-up". :/ I woke up this morning just because my brain was thinking about stuff... not because my alarm went off!"
Crap! I did that this morning too. Am I getting old? :)