Welcome to another blogisode of my 2010 Review Extravaganza! Hosted by...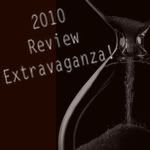 In April
of 2010, we celebrated Easter by having my SIL and her family here. The girls all had matching dresses and our Spidey was in an awesome pink tie. We tried to do a photoshoot and got some pictures...but it was kind of melt down mode for the kids.
Also in April, I wrote
this post
which reflected some of my thoughts about marriage. I loved going back and reading so many of my April posts but that one stuck out to me the most.
In May
, we celebrated our girly's 2nd birthday! Petey learned how to squish her brother's fat cheeks together...
...and she got a new bike for her birthday! A very special pink bike that is still too big for her this December. Someday, she'll grow---we hope.
May was also Mother's Day and I dedicated 5 blog posts to special mother's in my life. You will find them
here,
here,
here,
here,
and
here.
In June
, these cute cousins (Spidey on the left, K Bear on the right) were starting to interact with each other more. I remember the day we parked their carseats like this when we were both at my parent's house. They were so cute together and I miss my K Bear so darn much!
Also in June, I wrote
this post
about how I'm sure some of us tend to get on our blogs and relay our lives to others as perfect and always happy. I talked about how frustrating work was (even though I loved that job so much) and how much I wanted to be with my kids. My patience was growing thin as I longed to be with my kids. If only I had known then...
And to end our wacky June, my 2 1/2 year old was still skinny enough for an infant carseat. Dont worry, we never put her in the car like this but at the science center one day, both of my kids were getting restless and wanting to be out of the stroller. I suddenly had a great idea that if we changed their point of view (we put Spidey in the front facing forward seat and Petey up in his carseat), maybe they'd be happy.
And guess what? They were! :)